Something New at the Daytona 500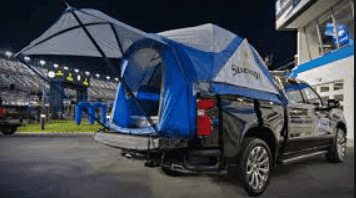 The all-new 2019 Chevrolet Silverado debuted at this year's Daytona 500. A production-level Silverado was the first truck ever to pace the Daytona 500. Within the NASCAR truck series, Silverado boasts 232 wins, nine manufacturers' championships, and 13 drivers' championships. The Silverado has been the most successful truck to compete in the series since it began in 1995.
And if making race history wasn't enough, the first-ever camping event took place in the Chevrolet Experience Center on the Daytona Motor Speedway infield. Through a Chevy Cares partnership with the American Cancer Society, one fan and his family put the Silverado's Durabed (the most functional bed of any full-size truck) to the test as they camped out in six Silverados equipped with tents, which Chevy has dubbed Hotel Silverado.
Chevy is using the exposure at the Daytona 500 to reach both traditional truck buyers and potential new customers. Displaying the versatility of the new pickup truck might draw new customers who need options in a vehicle that fit their lifestyle.
The all-new Silverado builds on its Durabed brand, offering:
Best-in-class cargo volume
A roll-formed, high-strength steel bed floor
12 fixed tie-downs, capable of handling 500 pounds of force before bending
Nine moveable tie points for cargo flexibility
The bed features listed above aren't the only reason to buy this truck. Both loyal fans of the brand, as well as new customers, can appreciate the options available on the Silverado. For starters, drivers can choose from eight trim options and six different powertrains, so you can choose the right combination of power and efficiency for your needs. Additionally, the "drive mode selector" allows you to adjust the truck's performance with the simple turn of a dial. Options include: Tour, Sport, Tow/Haul, Off-Road, Terrain, or Snow/Ice. And that's only a small snippet of available features. Check out our line of Silverados here. Please contact us so that we can help you find the ideal Chevy for you.